领导层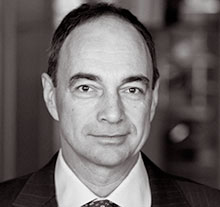 Dale Cottrell
Regional Managing Director, APAC
Dale Cottrell is the regional managing director of Bain & Company`s Asia Pacific region, based in the firm`s Hong Kong office.
He has more than 25 years of consulting experience, advising clients throughout Asia Pacific and Europe on their biggest opportunities and challenges.
Dale has worked across a number of industries including industrial goods and services, packaged consumer goods, retail, financial services, telecommunications and healthcare. He holds deep expertise in strategy, operational performance improvement and organization.
Dale also has considerable corporate finance experience including lead advisory work, mergers and acquisitions, business valuations, bid/defense work, corporate turnaround and recovery work, MBOs and financial investigations.
Dale served as managing partner of Bain Australia between 2005 and 2012 and was made regional managing director for Asia Pacific in 2013.
Dale holds a master of business administration from the Australian Graduate School of Management, where he graduated first in his class. He is a chartered accountant and an associate of the Securities Institute of Australia. He also has a bachelor of commerce degree from the University of New South Wales.